1973 Camaro Z28
---
---
This page is dedicated to my 1973 Camaro Z28. It has the original 350/245 hp motor, M20 transmission, and 3.42 rear end. It also has air conditioning which is the first year that A/C was available on the 2nd Generation Z28.






---
Vehicle Identification Number (VIN) Breakdown

* First digit is for the Chevrolet Car Division.
* Second digit is model series: Q=Sport Coupe
* Third and fourth digits refer to the 2 dr. Sport Coupe Body Style.
* Fifth digit is engine code: T=350ci, Z28
* Sixth digit is model year: 3=1973
* Seventh digit is N for Norwood, Ohio assembly.
* Last six digits increased one with each car built at Norwood, sequence started at 100001.
---
Trim Tag Breakdown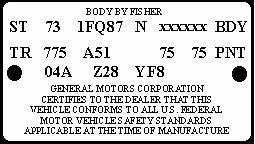 73-Model Year 1973; 1-Chevrolet Car Division; FQ-Camaro Base Series;
87-2dr. Sport Coupe Body Style; N-Norwood, Ohio Assembly Plant; xxxxxx-Factory Body Number

775-Black Interior Trim; A51-Bucket Seat Type; 75-Medium Red Lower
Body Color; 75-Medium Red Upper Body Color

04A-1st Week April Build Date; Z28-Accessory Code; YF8-Black Stripes
---
Window Sticker

---
My Z28 in a Camaro book
I was fortunate enough to have a picture of my car appear in a book by Peter C. Sessler titled
"Camaro, 1967-2001 Photo Archive". The picture and caption is shown below.

---
---
2nd Generation Camaro Screen Saver
I have created a screen saver using several pictures of 1970-1973 Camaros.
Click here for more information about downloading the screen saver.
(Please note that the file is @ 1.2M in size and may take a few minutes to fully download)
---
Camaro Related Links
---
Click to see Sales & Dealership Items
Click to see 1:64 scale diecast cars
Click to see 1:24 scale diecast cars
Click to see 1:18 scale diecast cars
Click to see 1:18 scale custom diecast cars
Click to see miscellaneous Camaro toys
Click to return to the Homepage
---